Cornell University ILR School Job Posting
March 30, 2017
The Benefits of Non-Credit Classes
April 19, 2017
In the past 12 months, we have added businesses across New York State as members to our business leadership network. These businesses are interested in employing people with disabilities. We are being asked by some of the businesses to put together a coalition of students/graduates interested in beginning their career.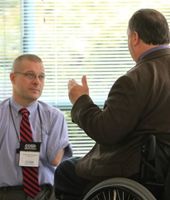 To do this, they have offered us over 100 internships and entry-level positions to offer to our community!
 These businesses include: J.P. Morgan Chase, M&T Bank, BMO, Barclays, AYCO – a Goldman Sachs Co., G&K Services, Turner Construction, National Grid, Thomson Reuters, SEFCU, Realty USA, Price Chopper, Southern Tier Brewing Co., HMS Host, MassMutual, SRI Fire Sprinkler, SUNY, Eli Lilly, Lawson Automotive, Camelot Printing and Merck.
We would like as many students and graduates with disabilities to know about these opportunities. The best way we can serve our population is to collect interested individuals inside our portal Our Ability Connect (http://connect.ourability.com/login) AND have individual email us directly their interest (connect@ourability.com). In the portal make sure you fill out the summery and photo areas – it will improve your responses.
As you know, I am proud be a person with a disability building this project. I am equally proud of the New York schools who support employment for people with disabilities.