By Anthony Tassarotti
Day three of the Journey Along the Erie Canal, Spencerport to Fairport, is in the books. Today was an easier day for the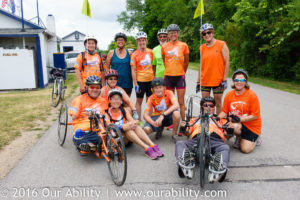 group, as we only did 27 miles on mostly paved trail. What slows us down, and beats up our bodies are the stone dust sections of the trail. Luckily, we have not had rain, so those stone dust paths are not muddy quagmires. Still, they are rough and don't give John and Doug a chance to coast, so they have to work even harder on this trails.
Each day tends to take on a Groundhog Day quality, as we start where we ended the night before and go through the same routines every morning of unloading the truck, pumping tires and rolling out along the trail.
I've never ridden in this part of New York state and I'm very pleased with the beauty of the landscapes. The canal cuts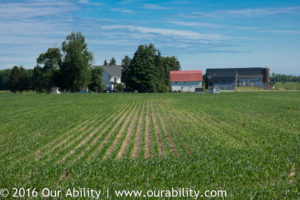 through a variety of farms, with fields of golden wheat, corn, onions and apples. You also get to see a variety of birds, turtles, chipmunks and geese. The geese are really unfriendly!
As we roll along, you spend the day riding along side different people. You spend a few minutes talking about a variety of subjects and then you roll onto the next person. We have a really interesting collection of core riders this year, some are strong riders while the majority are only riding the bike to be supportive of Doug and John. But they are all great people and fun to talk to.
The best part of the day for me is when I get to peel off my bib shorts, (it's not a onesie Andrea!) and jump in the shower. After riding for three or four hours, you are covered in sweat and road dust. You emerge a new person, ready to eat huge quantities of food and hopefully get some solid sleep.