Day 9 Blog – Three Friends Perspective – #JourneytoWork
July 6, 2016
Focusing on the Abilities of Employees Earns Sodexo Double Recognition
July 20, 2016
By John Robinson Days 9 and 10 – #JourneytoWork
Wednesday started out in picturesque Little Falls. It is beautiful in Little Falls when you leave the village along the path. You are rolling in between two rock formations for at least a mile. It is a very cool and soothing area to cycle through.
It was a bittersweet day on Wednesday. We had beautiful weather and wonderful friends with us, but it's the first day since year one that Doug could not ride. I found myself respecting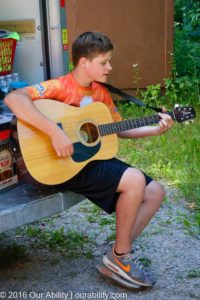 how much I enjoy and rely upon having a friend, colleague and hand cyclist to share our Journey. He was under the weather, and I understand how much he missed the opportunity to bike on Wednesday. We also had two flat tires – both Anthony and Trish had suffered tire malfunctions during the day. Anthony's was more severe – unable to finish the final 10 miles. Thankfully, Trish had her flat tire with one mile to go and she was able to limp in.
It was a brutally hot day Wednesday. And, we forgot how soft the trail is between Little Falls and Canajoharie. It is indescribable on how hard it is to push my hand cycle through the soft path.
We had many positives. We we crossed the 300 mile mark! We enjoyed great company, listened to Owen's friend Nate play the guitar and we ended the day with Karen's Ice Cream just outside of Amsterdam. All in all it was a long, hot and bittersweet 42 miles.
Thursday proved to be an amazing day – with some extra challenges at the end. We had a wonderful event with Liberty ARC.  We met many of our friends we've seen in years past and celebrated with nearly 200 people seeing us off for the day. We had more riders than at any point to date. Again, we were joined by people from Saratoga Bridges, Schenectady Arc, Liberty Arc as well as our good friend Matt from Helen Hayes Adaptive Sport. We left Amsterdam with the sheriffs escort to the county border. This was wonderful treat by Liberty. Liberty is a great example of employment opportunities for individuals with disabilities. NYSID was on hand as well, and it's great to be able to share our cooperative message of employment opportunities for individuals with disabilities. We could not do this Journey to create employment opportunities without the help of NYSID!
We had an equally exciting and important event and Price Chopper/Market32 headquarters at noon. We have found great friends with Price Chopper/Market 32 over the years and will continue to work with them to create employment opportunities for people with disabilities!
As we left this wonderful event, Doug Hamlin lost his break cable again. On the first day in Buffalo he had a similar repair. We called Freeman's Bridge Sports who fixed his cable. There are so many wonderful bike shops along the canal, and it does not end with the wonderful bike shops in the capital region!
We now have 18 miles to go to Albany!